C4PTCH4 TH1S: The disruptive power of technology on traditional language systems
The creation, interpretation, and flow of visual meaning are profoundly human; our digital culture disrupts and extends how we think about and use language. Memes, emojis, acronyms, hashtags, and @replies are used globally to tell stories, seduce, express rage, form movements, build brands, and more. Our informal, unfiltered texts and comments are no longer written just to be read but rather shared, moved, and manipulated. Living at the intersection of visual representation, storytelling, subversive communication, and platform technologies, our means of communication invite new forms of critique and making, as well as a renewed understanding of how languages evolve, and their engagement in social, cultural, and economic dialogues that are driven by computation as a new medium.
C4PTCH4 TH1S is a multi-platform program that studies the linguistic trends born within digital communication platforms, the transformative effects of emergent technologies on our use of languages, and what these occurrences reveal about the future of communication.
Professionals from the field of communication—linguists, theorists, designers, and artists—were invited to talk about the topics addressed by C4PTCH4 TH1S. The presentations addressed emoji and meme culture, generative form-making, machine vision, and new modes of inquiry. The series was presented as part of ArtCenter College's Creative Tech Week, October 11–15, 2021.
WEDNESDAY OCT 13 @ 11:00AM–12:00PM
Poetry, Bots, Humans, and Language
Poets Allison Parrish and Sam Creely discuss the increasing complexity of a conversation when visual or written language is transcribed into a digital environment. Whether a poem created through machine-based learning or a notated dance, conversations made through technology still contain the explicit structures and artifacts of their original language.
Speakers
Allison Parrish, Poet, Programmer, Assistant Arts Professor, NYU ITP/IMA
Sam Creely, Poet, ArtCenter Faculty
Prof. Gloria Kondrup (Moderator), Executive Director, HMCT, ArtCenter Faculty
THURSDAY OCT 14 @ 11:00AM–12:00PM
Emoji and the Evolution of Communication
As of September 2021, there are 3,633 emoji in the Unicode Standard, and they continue to grow as a language and perhaps even have the potential to form an emoji dialect. Jennifer 8. Lee is the founder of Emojination, a grassroots group whose motto is "Emoji by the people, for the people."
Speakers
Jennifer 8. Lee, Entrepreneur, Journalist, Producer, Founder of Emojination
Robbie Nock (Moderator), Director, Entrepreneurship and Professional Practice, ArtCenter
FRIDAY OCT 15 @ 11:00AM–12:00PM
The Role of Graphic Design in Technology
New tools, technologies, and techniques are impacting the expanding field of graphic design: a discipline that has transcended its role as commercial art practice, to that of an essential and universal tool for communicating a multi-dimensional experience through type and image across a diverse landscape of traditional and emerging media. Our panel of educators and professionals discuss the continuing impact of technology on typography and design.
Speakers
Mike Abbink, Executive Creative Director, IBM Design Language, and Carbon Design System, IBM Distinguished Designer
Brad Bartlett, Designer, Educator, Author, and ArtCenter Faculty
Lucienne Roberts, Owner, LucienneRoberts+ / GraphicDesign&
Prof. Gloria Kondrup (Moderator), Executive Director, HMCT, ArtCenter Faculty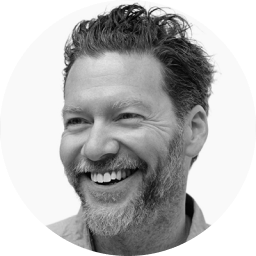 Mike Abbink is currently the Executive Creative Director of the Brand Experience and Design Team within IBM Studios. Before that he was Creative Director for the Museum of Modern Art, Wolff Olins, Saffron Consultants, and Method (also co-founder), Design Director at Apple Computer, and graphic designer at Meta Design. Mike has a passion for typeface design. His typefaces include FF Kievet, FF Milo, GE Inspira, Brando, and IBM Plex, a large free font multi-script typeface. Mike earned a BFA in Fine Arts, and a BFA in Graphic Design and Packaging from ArtCenter College of Design.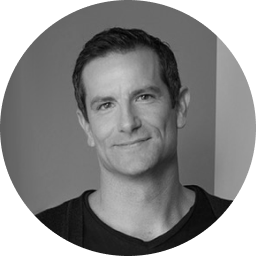 Brad Bartlett is a designer, educator, and author. The work of his Los Angeles-based design studio has been recognized by the Art Directors Club, Type Directors Club, Communication Arts, Dezeen, AIGA 50 Books/50 Covers, Graphis, I.D., How, and Print, among numerous others. Brad has been faculty at ArtCenter College of Design since 1999, and was awarded Great Teacher in 2003 and 2014. He is the Director of Transmedia in the Graphic Design Department where he has developed Transmedia pedagogy and overseen curricular implementation. Brad is also on-screen author at LinkedIn Learning, where he recently published a course on Transmedia Typography.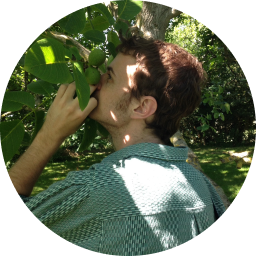 Sam Creely is a poet, editor, bookmaker and educator whose work engages anticolonial and queer methodologies, turning syntax against institutional systems of logic or sense. Their research in early modern textile history pursues questions about the implication of trade language in English lexical semantics and morphology. Sam attended Carnegie Mellon University and California Institute of the Arts. With Pia Sazani, they are a founding co-editor of DanceNotes Chaplet Series. Presently, they live in Los Angeles where they serve as an Assistant Professor in Graduate Media Design Practices at ArtCenter College of Design.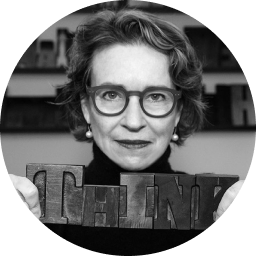 Gloria Kondrup
As a professor at ArtCenter College of Design, Gloria Kondrup has been an educator for over two decades. As Director of Archetype Press, ArtCenter's letterpress studio, she redefined the value of typography and analog technology in the digital landscape. Gloria currently serves as Executive Director of Hoffmitz Milken Center for Typography, which furthers the advancement and study of typography through its educational programs, student scholarships and awards, educator grants, and fellowships. She lectures internationally on design topics that include culture, politics, education, and ethics. Gloria holds a BA in fine art and an MFA in design and is currently a board member of Association Typographique Internationale.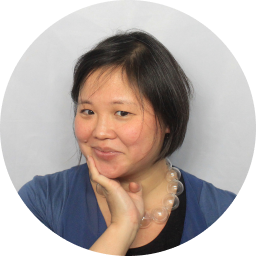 Jennifer 8. Lee is an entrepreneur, documentary producer, journalist, and seed investor. She is co-founder and CEO of Plympton, a San Francisco-based literary studio, and founder of Emojination, a grassroots group that lobbies for better representation in emoji. Lee is the author of the New York Times bestselling book, The Fortune Cookie Chronicles, which established that fortune cookies are Japanese in origin. She also served as producer of the documentaries "The Search for General Tso" and "Picture Character," which premiered at the Tribeca Film Festivals.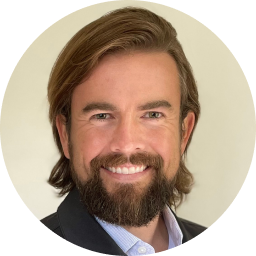 Robbie Nock
Robbie Nock is an entrepreneur and educator dedicated to creative innovation and mission-driven organizations. He is the Director of Entrepreneurship and Professional Practice at ArtCenter where he connects art and design to business and technology, fostering founders, collaborations and partnerships. Robbie's career began in photography and media which evolved into immersive experience design. He then founded a map-sharing travel startup and now advises a wide range of investors and partners. He serves on the Executive Committee for the Caltech Entrepreneurs Forum, the Board of Directors for Innovate Pasadena and as the Co-chair for the Creative Advisory Board for the Mayor of Los Angeles. He received an MA in English Literature from the University of Edinburgh and an MFA in Art and Technology from the California Institute of the Arts. Robbie is a practicing visual artist and lover of the outdoors, surfing, skiing and running whenever possible.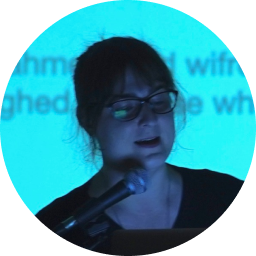 Allison Parrish is a computer programmer, poet, educator, and game designer who addresses the unusual phenomena that blossom when language and computers meet. Based in Brooklyn, she is Assistant Arts Professor at NYU's Interactive Telecommunications Program, where she earned her master's degree. Named "Best Maker of Poetry Bots" by Village Voice in 2016, Allison's computer-generated poetry has recently been published in BOMB Magazine and Nioques. She is author of @Everyword: The Book, which collects the output of her long-term automated writing project that tweeted every word in the English language. The game Rewordable, a collaboration with Adam Simon and Tim Szetela, was published in 2017; her first book of computer-generated poetry, Articulations, in 2018.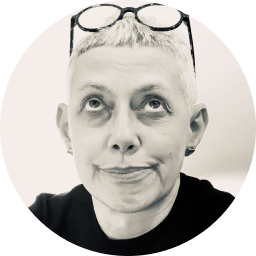 Lucienne Roberts is a graphic designer, design writer and educator; founder of studio LucienneRoberts+ (LR+) and co-founder of advocacy initiative GraphicDesign& (GD&), practice and research characterised by her interest in ethical design. A graduate of Central Saint Martins, Lucienne was HMCT Typographer-in-Residence 2018. As GD& co-founder she co-originated and co-curated two major London exhibitions exploring the value of graphic design: Can Graphic Design Save Your Life? (Wellcome Collection, 2017), and Hope to Nope (the Design Museum, 2018). Lucienne is a member of AGI and was made HonFellowISTD in 2021. 
For more information contact hmct@artcenter.edu
Hoffmitz Milken Center for Typography
ArtCenter College of Design
Pasadena, California

Copyright 2021 © All rights reserved.
Hosting provided by Digital Housing and Administration, LLC